Octopus Tracker is Britain's first tariff to truly follow the wholesale price of energy.
Every day, we update the price of your energy based on an independently published wholesale market price — the price available to all suppliers.
Sign up now
Your daily energy charges at your fingertips
See what you're spending on any given day, and how it compares to what you'd spend on the average variable tariff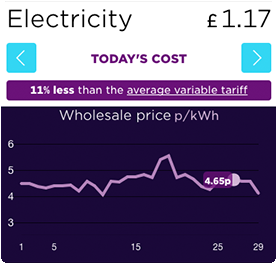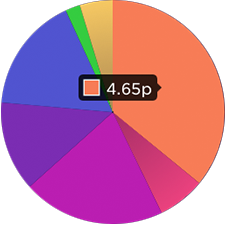 See where your money's going
Get the breakdown of your daily price and see what you're paying for energy, distribution, environmental & social obligations — even exactly how much is going to us at Octopus Energy
Daily price updates that follow the wholesale cost of energy
100% renewable electricity
5 star customer service by email and phone
"Simple to join, switch and set up. Ultra helpful, personal and fast customer service. Value for money and transparent prices. It was and still is a no-brainer. One of the best companies I have ever dealt with"
Tristan from Taunton
Already an Octopus customer? Drop us an email to hello@octopus.energy and we'll get your switch to Tracker underway.