Octopus Tracker is Britain's first tariff to truly follow the wholesale price of energy.
Every day, we update the price of your energy based on an independently published wholesale market price — the price available to all suppliers.
Sound good? Join the waitlist, and we'll send you an invitation soon.
It's worth keeping in mind energy prices are volatile and prices will go both up and down on this tariff. All future estimated costs are exactly that — estimates — and are intended as guidance only. If you'd prefer the security of fixed prices, you should take a look at our fixed price tariffs.
Your daily energy charges at your fingertips
See what you're spending on any given day, and how it compares to what you'd spend on the average variable tariff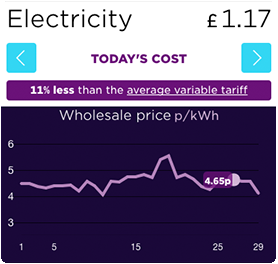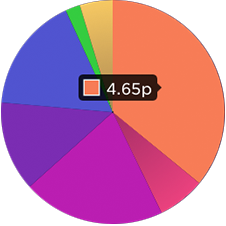 See where your money's going
Get the breakdown of your daily price and see what you're paying for energy, distribution, environmental & social obligations — even exactly how much is going to us at Octopus Energy
Daily updates to your annual energy forecast
Each day we use the latest price and usage estimates to update your energy forecast for the next 12 months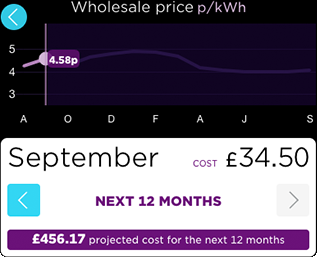 How do costs compare?
Data scientist and all-around good guy David Sykes shows how Octopus Tracker compares to the current Big 6 variable tariffs.
Want to know more about how Tracker works?
Take a look at our Frequently Asked Questions
Daily price updates that follow the wholesale cost of energy
We aim for 50% of electricity from renewable sources
5 star customer service by email, Facebook Messenger and phone
"Simple to join, switch and set up. Ultra helpful, personal and fast customer service. Value for money and transparent prices. It was and still is a no-brainer. One of the best companies I have ever dealt with"
Tristan from Taunton
Our customers rate us
based on 2213 customer reviews
Read reviews on
Still reading? Why not get a quote, or check out our blog?
Hey! Just so you know, your device is fully charged and you're still charging it. Removing the charger will avoid degrading your battery 😊
×

Close window